Our 650 m2 manor has 12 rooms with a total of 22 beds (in addition, extra beds are possible, so we can provide up to 30 beds). The rooms are simple but very comfortable and are currently under construction. There are 4 en-suite bedrooms, while the rest of the rooms have spacious shared bathroom facilities. On the ground floor there is a barrier-free shower. 
One-night stays are possible for a surcharge of 5 Euro / person, per night.
Floor plan of the upstairs rooms
As our manor is currently being expanded, there are still no photos of the rooms available; therefore, there is only the planned division of the upper floor to admire.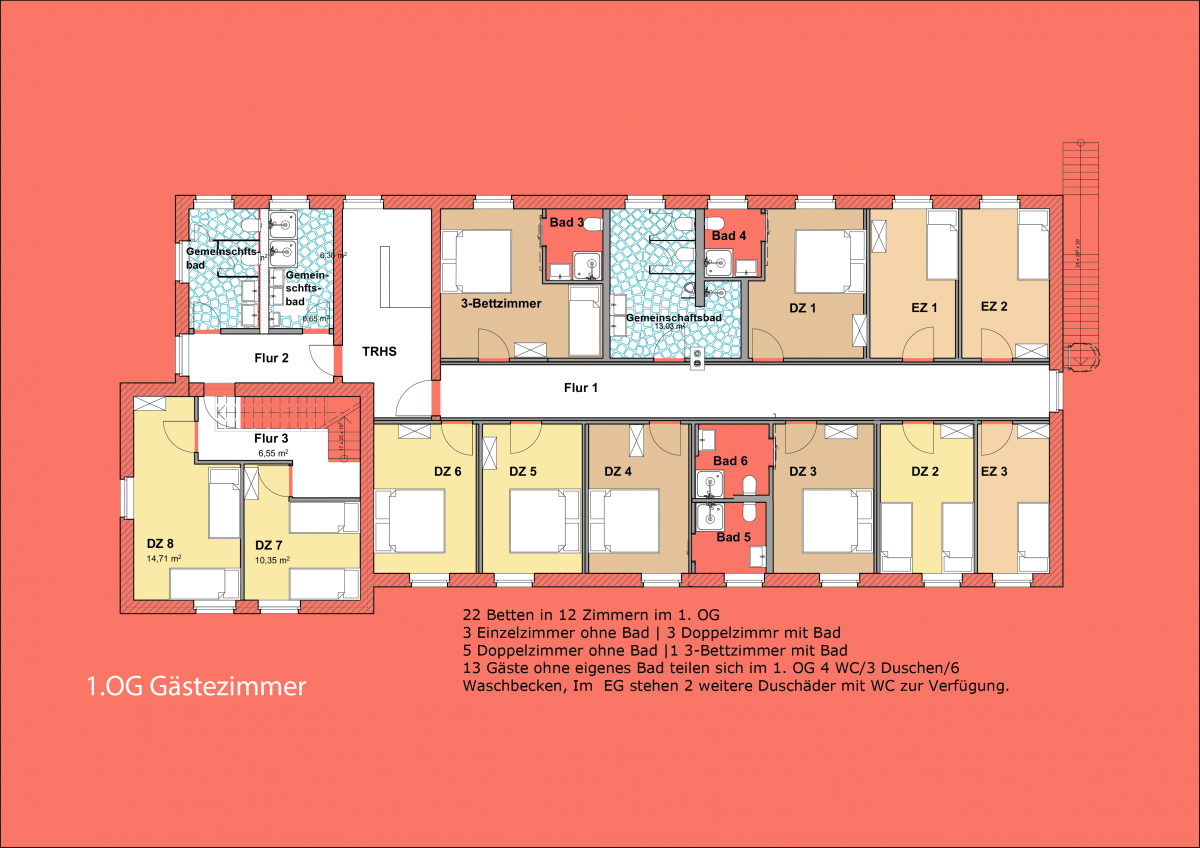 costs
| Room | | Preis/night/room |
| --- | --- | --- |
| 3 single room | first floor , 10 m2, no bathroom | 45 Euro |
| 5 double rooms | first floor  11 – 15 m2, no bathroom | 65 Euro |
| | used as single room | 55 Euro |
| 3 double rooms | first floor , 16 – 18 m2, with private bathroom | 90 Euro |
| | used as single room | 81 Euro |
| 3-Beds | first floor 12 m2, with private bathroom | 105 Euro |
| | used as single room | 95 Euro |
| | used as double room | 100 Euro |
| 4-Beds | temporary bedroom in Seminarroom 2 | 100 Euro |
| 4-Beds | temporary bedroom in Seminarroom 3 | 100 Euro |
| house complete | | 1250 Euro |